Single Point
of Compliance Visibility and Control
Cruz Compliance Controller (CruzCC) is designed for full automation of compliance checking, as well as auto-remediation, and configuration file, and change management. All activities are audited for deep insight into who made changes and when they were made. CruzCC provides powerful flexibility for the creation and customization of policies to meet your unique business requirements.
CruzCC offers a single-pane-of-glass for automated compliance checking and auto-remediation that can be performed on the entire spectrum of IT infrastructure in your environment.
Cruz Compliance Controller, like all Cruz products, is seamlessly integrated with Cruz Operations Center (CruzOC) for a robust converged infrastructure management solution to quickly configure, monitor, and manage all your devices and compliance from a single system. The integration offers centralized management for data center and network operations for multiple vendors and technologies.
Easy-to-use Features Simplify Compliance and Configuration Management

Compliance Policies
Pre-built compliance policies for industry standards – HIPPA, SOX, NSA, etc.


Easily customizable cut-and-paste policies.

Group policies to easily apply to one or more specific targets.


Proactive Scanning
Proactively scan policies to produce audit trails that facilitate troubleshooting.

Scan live configuration files, historical configurations stored in the database, labeled configurations, by date, by version.

Automated compliance scanning – scheduled or event-driven

Scan the text output of a CLI command (an Action): router, switch, or firewall commands, ESXCLI, RACADM, Powershell, PowerCLI – any CLI response.
Alerts, Notifications, Remediation
Automated compliance failure alerts.


Notifications via email, text, or forward to third parties, like Service Now.


Auto-remediation triggered by compliance failure events.


Lower TCO by proactively monitoring and resolving the infrastructure for out-of-compliance conditions.
Configuration File and Change Management
Template-based configuration file creation, back-up, and restoration – on an automated, scheduled, or ad hoc basis.

Visual, color-coded configuration file comparison feature to quickly identify changes.
Quickly detect and report on changes through event-driven or proactive change monitoring.
Event-based configuration change detection.
Policy-based change detection via pro-active configuration file scanning.
Actions – Automated and User-defined Configuration
Action framework allows customization of remediation activities.


Proactively prevent non-compliant changes through standardized Actions.

Standardize how operators apply changes to the network by using the Cruz Action templates to enforce standard configuration and compliance policies.
Reporting
Provides comprehensive reporting of configuration changes: meaningful reports on what changed, who made the change, when the change was made, authorization status.

Comprehensive and automated reporting of violations, configuration changes, and events: meaningful reports on what changed, who made the change, when a change has occurred, authorization status.


---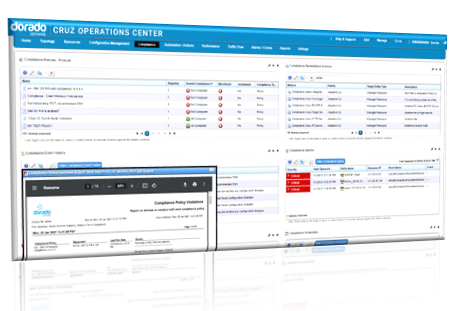 MULTi-vendor / technology
Simple, scalable solution to keep your multi-vendor IT infrastructure compliant.
Switches

Routers

Firewall

Access Points

Controllers

Servers

Operating Systems

Services

Processes

Storage

Virtual machines

Hypervisor

SDWAN (physical and virtual endpoints)

Download Product Datasheet
---
Interested in compliance management?
Schedule a demo of Cruz Compliance Controller.