Customize and Automate Services
over Converged and Hyper-Converged Infrastructures
CruzControl lets you create, automate, and manage value-added services over today's converged infrastructures. CruzControl is a single DevOps system for critical management to configure and automate service delivery and fulfillment, shortening time-to-market and reducing errors during delivery.
To be competitive, Enterprises and Cloud Service providers must use their hybrid cloud and network infrastructures efficiently while quickly delivering converging services. You must keep up with the demand to deliver new applications and network services at the highest level of quality. CruzControl's flexible DevOps tools, including actions, automated and user-defined configuration, and complete north and southbound integration capabilities, let you quickly customize your network. It offers efficient and automated service-aware orchestration, with an end-to-end solution to configure, manage, and troubleshoot converging services and networks.
Fully integrated with Cruz Operations Center (CruzOC), multi-vendor infrastructure management for IT/IoT resources, results in comprehensive and automated problem resolution from a single-pane-of-glass.
Define, orchestrate, monitor, and automate services over multiple managed IT/IoT resources.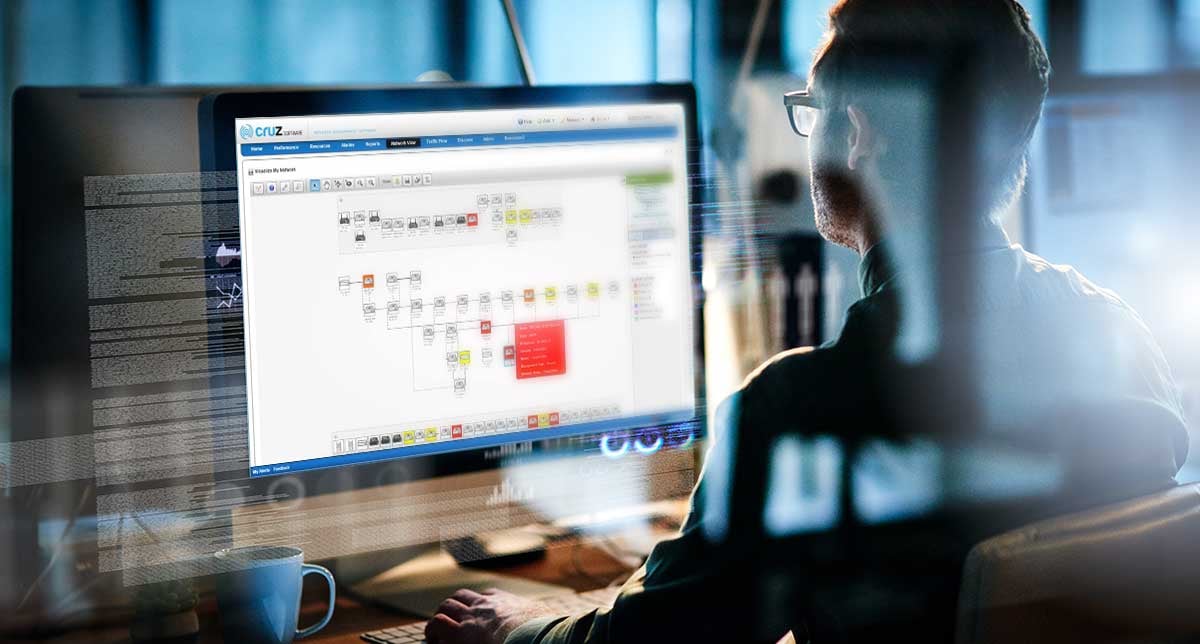 Providers and administrators are constantly looking for ways to speed delivery to market without compromising quality. Automation is the only way to effectively accomplish this task. Manual solutions, scripts, and CLI are labor-intensive and error-prone which results in lost revenue and customer dissatisfaction. A single system to automate repeatable processes not only makes the fulfillment process significantly quicker but also eliminates costly errors. But it can't stop there. Once services are deployed, customers frequently need to change their service. For example, a customer may require more bandwidth or a different configuration. CruzControl lets you react quickly and efficiently to customer needs, resulting in faster and higher quality services to the end-user.


CruzControl also lets you deploy and manage your converged network or hybrid cloud services regardless of vendor or device type or cloud infrastructure. It comes out-of-the-box ready to support a wide range of resources (compute, storage, physical/virtual networking, cloud infrastructure), and with integrated tools, it's easy to customize support for additional vendors and devices. CruzControl is also flexible enough to handle any next-generation service that will come along, new hybrid cloud requirements, or integrate with other management systems. CruzControl extends from the cloud to the edge to provision services out to CPE equipment, and across multiple cloud implementations, providing an entire end-to-end solution...with one system!
Highly customizable user a

utomation and event processing rules

, actions, action groups, and tasks

Closed-loop triggered automation and remediation

Centralized application GUIs provide a common, repeatable workflow regardless of the technology or topology of the services
Track associations between Services and Customers/Subscribers or Network Resources through the CMDB
Unified provisioning transaction model
Discover services and bring them under management
Enhanced template management
Link services to templates – Configure VPNs, for example, by copying them from templates
Quickly configure, update or deploy to single, multiple, or grouped targets

Auto-update service data by updating the template
Service data versioning
View/compare previous service data
Revert to previous data version
View audit trail associated with version
The standard preview and review screens display a tree of services (parent and child), so reviewers can see the whole picture.
CruzControl Archictecture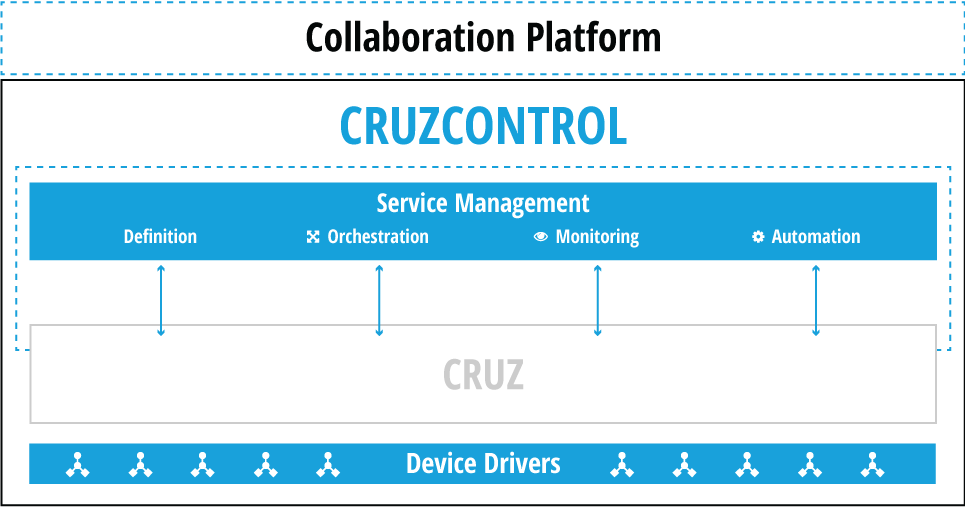 Supported Operating System Platforms (64-bit)


Linux for Redhat /Centos
MSFT Windows Server
MSFT Workstation: Windows 7-10
Virtual Machines supported on HyperV, VMware, and KVM
Pre-installed Centos Linux Virtual Appliance is available
Supported Web Browsers


Chrome
Safari
Firefox
Internet Explorer
Example Device Support


Networks: Aerohive, Arista, Aruba, Brocade, Cisco, Dell, Edgecore, F5, HP, Juniper, Netgear, Ruckus, Sonus, Sonicwall, and more. Storage: Dell EMC Unity (Unisphere OS)
Servers: PowerEdge, HP, Lenovo, Fujitsu, Supermicro, ASUS and more (any server, physical or virtual machines, running Windows, Linux or Solaris OS)
IP: Phones, Cameras, Sensors, Lights, etc.
Any SNMP-enabled: Printers, Routers, Switches, Servers, Oracle, PDU's, UPS's etc.