Single Console for
Datacenter and Network Operations
of Today's Converging Infrastructures
Cruz Operations Center (CruzOC) provides robust yet easy-to-use data center and network operations for today's converging environments.
CruzOC gives administrators and operators critical resource control resulting in improved network and service quality, accelerated network and service deployments, and lower operating costs. The flexible and scalable tool consists of integrated infrastructure management for multi-vendor and multi-technology environments. CruzOC manages diverse physical and virtual interdependent resources that deliver today's cloud and next-generation services. This umbrella management solution gives administrators one console with implicit automation to control their data center operations. The result is comprehensive and automated problem resolution from a single-pane-of-glass.
Watch a quick explainer video:
>> Cruz Operations Center Datasheet
>> See an Overview of Cruz Operations Center (5 minutes)

Want to manage your IT infrastructure from the cloud?
Learn more about CruzNow!
Powerfully simple and scalable solution to discover, configure, monitor, and automate your hybrid cloud and network infrastructures including: compute, storage, network, virtual, mobile, CPE, IoT and environmental elements.

Reduce errors while performing daily tasks - discovery, group operations, compliance and change management, health monitoring & problem resolution
Reduce training and errors with normalized configuration across multi-vendors/technologies, while retaining vendor-specific functionality
Consolidated management solution reduces SW licenses, staffing and training expenses
Comprehensive device, component, and interconnection visibility
Automate discovery of any infrastructure device and provides detailed information on the devices and their connectivity, including the ability to draw physical and logical topology maps.
Easily configure and manage groups of infrastructure devices; configuration changes and firmware deployments can be made to multiple device in one operation, and many operations can be scheduled for pre-determined times.
Forward critical alarms to key people for quick resolution with event notification action framework
Monitor the health and performance of your converged environment, allowing the creation of dashboards to capture important events and trends, and display them over time.
Lower TCO by proactively monitoring for problems, automating common configuration actions, and enabling easy firmware deployment, allowing administrators to focus on more critical activities.
Deep Discovery, Inventory, CMDB
Fault Management/Event Service and Automation
Configuration File Management
User-defined Configuration – Actions
Script Management
Change/Compliance Management
Automated Network Topology
Firmware/OS Management & Deployment
Group (one-to-many) Operations
Customer Self-Care (multi-tenancy)
User Security Management
Comprehensive Solution Auditing & Logging
System Self-Management
Inventory Maintenance
Multi-Technology/Vendor Support
3rd-Party Integration
Network Operations Collaboration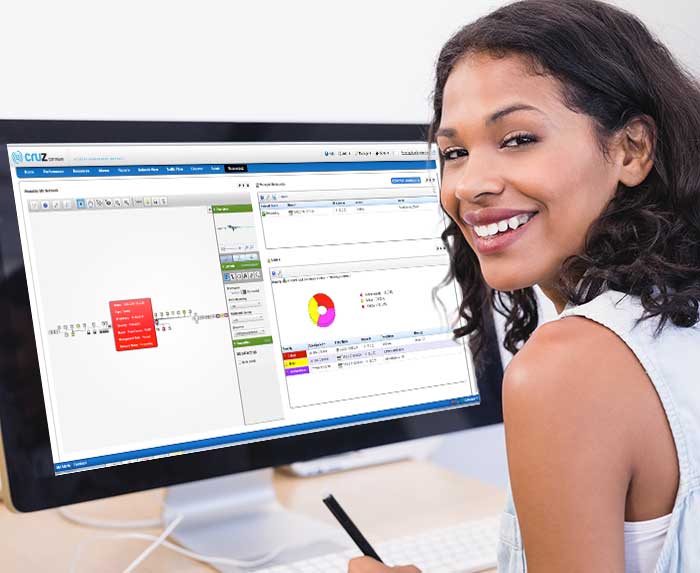 Cruz Operations Center Archictecture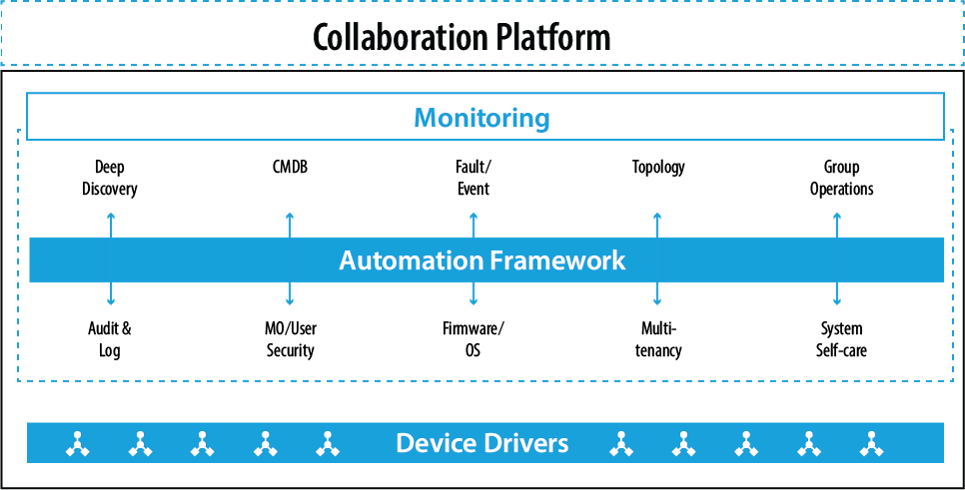 The CruzOC Automation Framework can initiate any system operation, like script-execution, configuration back-ups and or restorations in response to any event.
CruzOC is built upon a componentized device driver architecture that provides standardized application support protocols and configurations. By simply installing a new device driver, CruzOC can manage additional network elements without needing to upgrade any applications. In addition, you can easily create your own device drivers with a Device Driver SDK for those vendors where a driver is not currently available.
CruzOC also features a graphical user interface based upon standard web portal technologies. This allows for a customizable user experience to satisfy customer specific operational procedures, all within a multi-tenant environment.
Supported Operating System Platforms


Linux for Redhat/Centos
MSFT Windows Server
MSFT Workstation: Windows 7-10
Virtual Machines supported on HyperV, VMware, and KVM
Virtual Appliance
Supported Web Browsers


Chrome
Safari
Firefox
Internet Explorer
Example Technology Support


Networks: Aerohive, Arista, Aruba, Brocade, Cisco, Dell, Edgecore, F5, HP, Juniper, Netgear, Ruckus, SONiC, Sonus, Sonicwall, and more. Storage: Dell Unity (Unisphere OS)
Servers: PowerEdge, HP, Lenovo, Fujitsu, Supermicro, ASUS and many more (any server, physical or virtual machines, running Windows, Linux or Solaris OS)
IP: Phones, Cameras, Sensors, Lights, etc.
Any SNMP-enabled: Printers, Routers, Switches, Servers, Oracle, PDU's, UPS's etc.
Downloads