Orchestrate
the Edge and Manage Virtual Assets at Scale
Cruz Edge Orchestrator manages the operating infrastructure software and virtualized functions in today's network edge and distributed compute initiatives and offers critical features for remote technical support and scaling. It is a powerful single console for
Day 1/Day 2 management of converging infrastructures and network operations.
Operating System and hypervisor flexibility (Microsoft, Linux, ESXi , KVM, HyperV)
Bring your own uCPE or SDWAN appliance
Virtual Functions (Velocloud, Palo Alto, Fortinet, and more)Optimize hardware and software to meet requirements and budget
Reduce manual SW configuration across edge, at scale
Reduce operating costs for time-to-deploy software updates and costly configuration error correction
Minimize costs of onsite support and windshield time with remote single pane-of-glass
Any edge - branch office, retail, datacenter, towers, hospital, campus, etc.
Remote management and monitoring
Coordinate associated external management reducing complexity and additional software support costs
Integrate to SDWAN Orchestrators (Velocloud, Silver Peak)
Automated edge activation
Manage other edge infrastructures (Dell, Cisco, Juniper, firewalls, switches, servers, PS's, laptops, etc.)
Reduce software and training costs with centralized support and automation of software lifecycle
Action Workflow – Simplify complex /integrated deployment processes
Actions Groups – Repetitive action across multi hosts/sites
Scheduling – Manage rollouts and downtime
Policy Management – Single source of corporate practices
Key Features

Maintain Software Function Library –

Onboard, maintain, and automate access to software image library that supports the edge solution lifecycle.
Maintain Software Compliance –

Integrated tools to discover, backup, monitor, and validate software versions and configurations against corporate standards.
Bare Metal Software Management –

Manage the initial deployments of BIOS, Operating System, Hypervisor, and designated virtual function software, for un-staged edge installs or as required.
Manage Virtual Software Updates –

Automate initial deployment or update of individual software, or associated groups of software components.
Validate Software Dependencies –

Automate and/or manually create software version and configuration dependencies to support automated software updates.
Manage External Functions –

Support end-to-end orchestration by automating processes to interact/configure software or network functions outside of the edge site. Includes network configuration, SDWAN orchestrators, and connected apps.
Create Action Workflows –

Multi-step processes to support complex software deployments and dependencies.
Create/Schedule Groups Actions –

Associate and schedule actions against defined groups of devices across multiple edge or distributed locations.
Manage Roll-back Scenarios –

Roll-back to back out simple or complex software update actions.
Day 2 Monitoring and Automation – Monitor across the edge solution and automate corrective processes. For instance, upon a software update, automatically initiate monitoring and support new capabilities.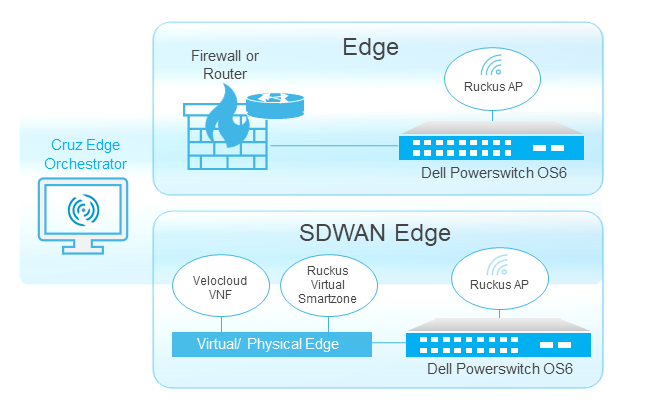 Single Pane-of-glass
With Cruz Edge Orchestrator, you can manage image onboarding, version management, dependency policies, compliance validation, backup and restore, instantiation and deployment, planning and scheduling for site and multi-site upgrades....all from a single console and for all of your multi-vendor edge software assets:
Bare Metal (BIOS)
Network OS (OS10, …)
Compute OS (Linux, MS)
Hypervisor (KVM, ESXi, HyperV)
Orchestrators (vCenter, Openstack)
VM/Containers
SDWAN Orchestrators (Velocloud, Silver Peak)
VNF (Velocloud, Palo Alto, Juniper SRX, Cisco, Silver Peak)


Interested in Cruz Edge Orchestrator?
Schedule a demonstration.