Flexible, easy-to-use service orchestration and automation for optimal control of your open networking in public and private clouds, or enterprise environments
Discover the potential of SONiC with the Cruz Portfolio of products, including Cruz Fabric Controller – a cutting-edge solution that to efficiently design, deploy, and operate multi-tier SONiC network fabrics, including leaf, spine, super-spine, and DCI, as well as adjacent technologies for hybrid solutions.
Cruz offers simplicity out-of-the-box with powerful multi-tier capabilities such as:
Multi-tenancy: Efficiently manage multiple tenants within your network infrastructure.
RBAC (Role-Based Access Control): Ensure secure access and control over your network resources based on assigned roles.
SSOT (Single Source of Truth): Maintain accurate and consistent network data across all your applications and systems.
Dynamic Service Chaining: Seamlessly integrate and manage services across your network infrastructure, optimizing performance and flexibility.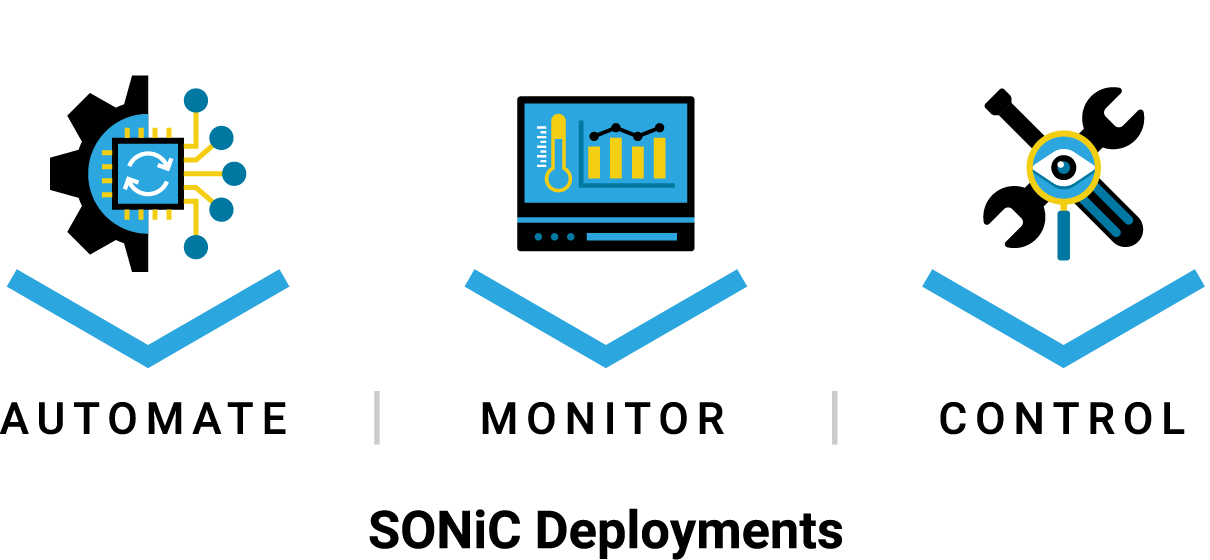 Unlock the full potential of your network with Cruz and experience the benefits of a streamlined, agile, and efficient SONiC network environment.
>> Schedule a Demo
>> Cruz SONiC Solution Datasheet
See More Dorado SONiC Solutions
>> Cruz SONiC Solution for Dell Technologies
>> Cruz Fabric Controller
Save time and cost by automating fabric deployment and configuration of large-scale network deployments and refreshes.
Keep firmware up-to-date individually or deploy to the fabric group.
Discrete control for management, monitoring and configuration.
Flexibility to automate exactly what you need with customizable automation.
Ensure corporate standards for switch or fabric configuration, compliance, and security
Automatic notifications to IT staff when there is a critical alarm, event, or syslog.
Eliminate technical support costs with automated provisioning and one-touch validation reduces support costs.
Reduce operational costs by reducing deployment errors and technical staff costs with simple plug and play automated provisioning.
One system to see your complete infrastructure from the cloud to datacenter.
Robust architecture lets you scale from small to extremely large environments.
Cruz has critical features that address orchestration and management challenges, across any infrastructure asset, while optimizing support costs, reducing downtime, eliminating manual errors, and minimizing onsite visits.
Single Pane-of-Glass: Manage diverse managed resources through their full lifecycle via a single interface.
Consolidate Resource Management: Centralized visibility of all devices, and performance monitoring, metrics, and events.
Fabric Orchestration: Deploy, update and monitor L2/L3 switch fabrics.
Asset Management: Manage installations and deployments as an associated group of resources for holistic performance, root cause visibility, and reporting.
Software Lifecycle Management: Corporate-wide application of software updates to network devices with dependency validation for network functions, computer processes and applications.
Active Security Compliance: Validate resource configurations, change auditing and automated compliance enforcement for security politics.
Log & Telemetry Support: Collect, filter, analyze and visualize comprehensive metrics via logs and streaming telemetry.
Environmental Control: provide visibility and mapping of your devices and fabrics.
Access Control: Secure access for any device.
Zero Touch Automation: Built-in automation to detect new or unknown devices and trigger auto-discovery with automatic management and monitoring and other Day 2 operations.