Proactively Monitor and Control
Network Configuration & Change
Managing configuration changes is the foundation of network security. Cruz Network Controller (NC) gives you complete visibility and control to know what you have in your network when it changes, who made the change, and how to remediate. Cruz NC is a comprehensive network configuration and change management (NCCM) tool to reduce manual errors by automating critical tasks, and streamlining how you manage and report on changes.
With a single-pane-of-glass, you can discover and document network device configurations; monitor, detect, audit, and receive alerts on changes; compare configurations with the policy or for a device; and deploy configuration updates to multivendor network devices.
Cruz Network Controller, like all Cruz products, is seamlessly integrated with Cruz Operations Center (CruzOC) for a robust converged infrastructure management solution to quickly configure, monitor, and manage all your devices and change from a single system. The integration offers centralized management for datacenter and network operations for multiple vendors and technologies.
Configuration File and Change Management
Template-based configuration file creation, back-up, and restoration – on an automated, scheduled, or ad hoc basis.
Visual, color-coded configuration file comparison feature to quickly identify changes.
Quickly detect and report on changes through event-driven or proactive change monitoring.
Standardize how operators apply changes to the network by using the Cruz Action templates to enforce standard configuration and compliance policies.
Event-based configuration change detection.
Policy-based change detection via pro-active configuration file scanning.
Proactively scan policies to produce audit trails that facilitate troubleshooting.
Provides comprehensive reporting of violations, configuration changes, and events: meaningful reports on what changed, who made the change, when a change has occurred, authorization status.
Actions – automated and user-defined configuration.
Contact us to learn more about Cruz Network Controller.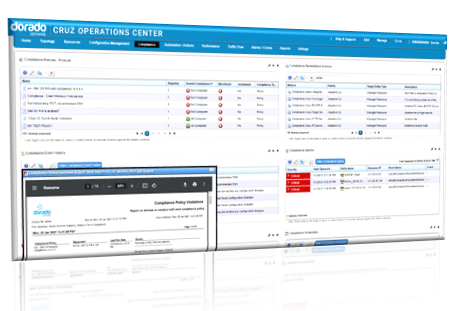 ---
Interested in Cruz Network Controller?
Schedule a demonstration.