Next-gen
log collection, analysis and visualization
for improved troubleshooting, managing compliance, and IT security
CruzLog is a set of integrated, and flexible tools for IT administrators and operators to collect, filter, analyze, visualize, and manage network, server and application logs for issue tracking, auditing, and compliance.
CruzLog adds comprehensive log collection, data management, and detailed visualization to Cruz Operations Center's (CruzOC) expansive suite of IT resource management features. Together, they provide a single console management product for managing datacenter and network operations of today's converging infrastructures
Fully integrated with Cruz Operations Center (CruzOC), infrastructure management for IT/IOT resources, results in comprehensive and automated problem resolution from a single pane-of-glass.
Featured Solutions:

Manage VNFs at the Edge with CruzLog Analytics and Dynamic Visualization

Collect, Store, and Visualize Log and Telemetry Data
Store, analyze, and visualize resource management data with log management to improve troubleshooting, IT security, and compliance.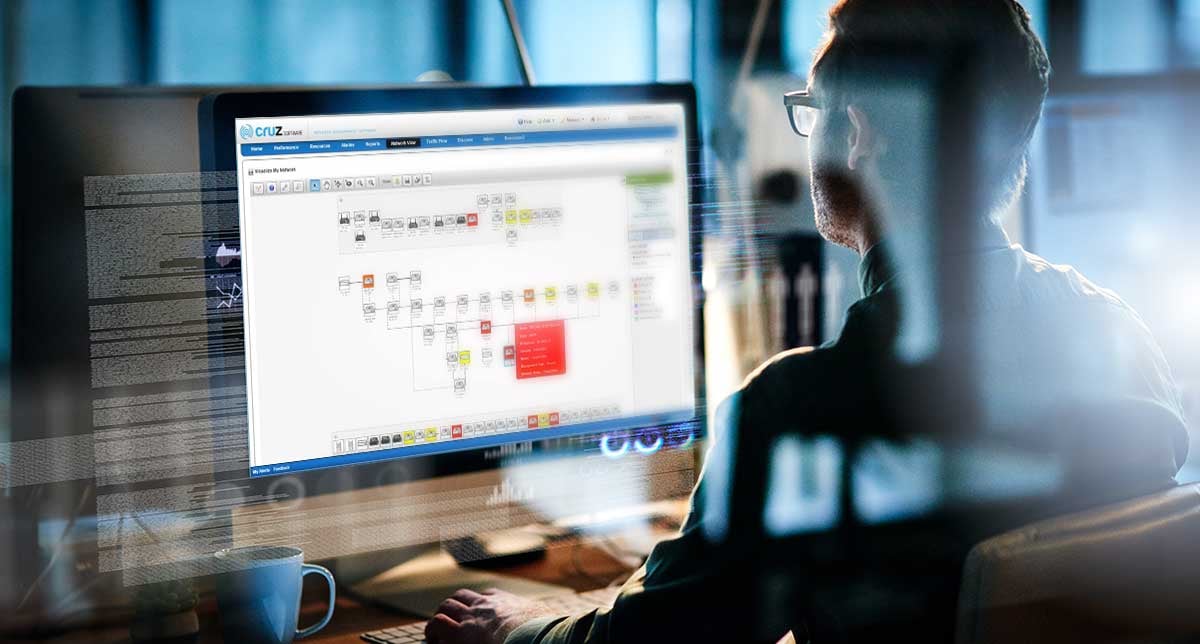 Log Collection – Use a wide range of collection processes to ingest diverse log structures from simple syslogs, various file formats, cloud blob storage, and optimized telemetry protocols.

Economical Data Storage – Advanced log indexing, cluster and hosting options, and querying process allow efficient, cost-effective, and responsive storage and retrieval of log data.

Visualization – Use more than 20 visualization templates for the most informative display of captured data, and incorporate the filtering and analysis process into each visualization.

Intelligent Dashboards – Group the visualizations of IT management tasks and drill into the data by simply selecting a displayed visual object.

Automated Software Deployments – Defined actions allow Zero Time Provisioning (ZTP) deployments of both the core CruzLog application on the customer choice of hosting platform and the distribution of collection processes for specific logs on targeted devices.
Dynamic Device Log Control – Start, modify, and stop the flow of managed logs from each managed device.

Data Retention Control – Manage the behavior of the underlying data structure for retention, backup, and data sizing both on an automated and on-demand basis.

Offline Data Backup – Use cloud facilities to store aged data structures for historical review.

Log Alerts – Create rule-based alerts to notify CruzOC of events discerned from log data to correlated against managed resources or other alerts.

User Management – Assign employees access rights and role-based permissions to ensure that the right employee, IT expert, or administrator has access to the logs and processes they require.

Manage CruzOC Data – Store, analyze, and visualize resource management data from CruzOC.
Seamless Resource & Log Management Integration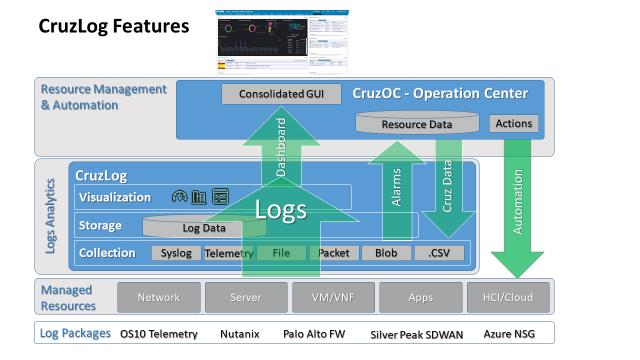 Supported Operating System Platforms


Linux for Redhat /Centos v6.x/7.2

MSFT Windows Server: 2008/2012/2016

MSFT Workstation: Windows 7-10

Virtual Machines supported on HyperV, VMware, and KVM

Pre-installed Centos Linux Virtual Appliance is available
Supported Web Browsers


Chrome

Safari

Firefox

Internet Explorer
Example Technology Support


Networks: Aerohive, Arista, Aruba, Brocade, Cisco, Dell, Edgecore, F5, HP, Juniper, Netgear, Ruckus, SONiC, Sonus, Sonicwall, and more. Storage: Dell Unity (Unisphere OS)

Servers: PowerEdge, HP, Lenovo, Fujitsu, Supermicro, ASUS and more (any server, physical or virtual machines, running Windows, Linux or Solaris OS)

IP: Phones, Cameras, Sensors, Lights, etc.

Any SNMP-enabled: Printers, Routers, Switches, Servers, Oracle, PDU's, UPS's etc.