Manage VNFs at the Edge
with
CruzLog Analytics and Dynamic Visualization
CruzLog is a set of integrated, and flexible tools for IT administrators and operators to collect, filter, analyze, visualize, and manage network, server and application logs for issue tracking, auditing, and compliance.
CruzLog adds comprehensive log collection, analytics, data management, and detailed visualization to Cruz Operations Center's (CruzOC) expansive suite of IT resource management features. Together, they provide a single console management product for managing datacenter and network operations of today's converging infrastructures. A consolidated presentation allows easy access to CruzLog analytics, such as definable filters and single-click context refinements. It also presents select automations, such as device log configuration, data retention, and log event notification.
Fully integrated with CruzOC, infrastructure management for IT and network resources, results in comprehensive and automated problem resolution from a single pane-of-glass.
Managed Software Asset Examples
Bare Metal (iDrac, Redfish, IPMI)
BIOS
Network OS
Compute OS (Linux, MS)
Hypervisor (KVM, ESXi, HyperV)
Orchestrators (VCO, Openstack, vCenter)
VM/Containers
SDWAN (Velocloud, Silverpeak, etc.)
VNF (Palo Alto, Juniper SRX, Cisco)
Access Points (Ruckus, Aruba)
>> Download Solution Brief
>> Schedule A Demo
Additional Dorado Solutions
Log Telemetry
ROBO
Edge Management
Virtualized Network Edge (VEP)
Remote Edge Management (VxRail)
Campus IT Management
E2E Software Defined Control (Pluribis)
Log Collection – Use a wide range of collection processes to ingest diverse log structures from simple Syslog, various file formats, cloud blob storage, and optimized telemetry protocols.
Visualization – Select from more than twenty visualization templates for an informative display of captured data and incorporate the filtering and analysis process into each view.
Intelligent Dashboards – Group visualizations of IT management tasks and drill into the data by simply selecting a displayed visual object.
Economical Data Storage – Attain efficient, cost-effective, and responsive storage and retrieval of log data with advanced log indexing, cluster and hosting options, and querying processes.
User Management – Assign employees access rights and role-based permissions to ensure that the right employee, IT expert, or administrator has access to the required logs and processes.
Cloud Storage Offerings – Provide integrated cloud offering to store and manage CruzOC analytics data.
Automate Resource Onboarding – Configure the managed device to route selected logs to the correctly configured CruzLog collectors, data structures, and visualizations.
Data Retention Control – Manage the behavior of the underlying data structure for retention, backup, and data sizing both on an automated and on-demand basis.
Offline Data Backup – Use cloud facilities to store aged data structures for historical review.
Dynamic Device Log Control – Start, modify, filter, and stop the flow of managed logs from each managed device.
Real-time Log Alerts – Create rule-based alerts to notify CruzOC of events discerned from log data and correlate against managed resources or other alerts.
Single Pane Integration – Incorporate CruzLog analytics and visualizations directly in associated CruzOC pages.
Advanced Analytics – Store, analyze, and visualize resource management data and metrics collected by CruzOC.
Leverage analytics in troubleshooting, capacity, and intent/software defined network control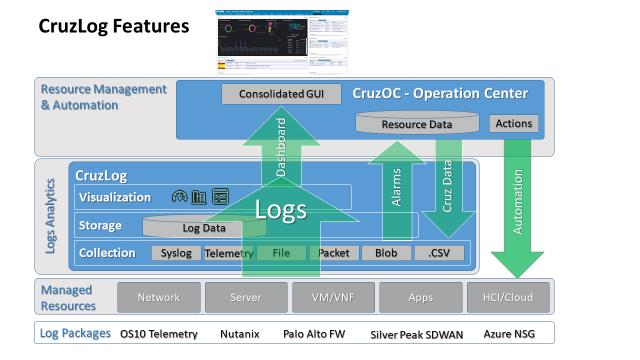 Leverage analytics in troubleshooting, capacity, and intent/software defined network control.
Minimize onsite technical support costs.
Holistic visibility of edge logs – from bare metal through virtual functions.
Remotely manage collection configuration and log filtering across complete edge stack.
Route key log events directly to real time monitoring system.
Consolidate visibility and processing of event, log, and telemetry.