Fabric Creation, Deployment, and Management
for Dell OS10 and Enterprise SONiC
Cruz Fabric Controller provides software defined networking and control to orchestrate fabrics in your local or remote data center, remote edges, and remote sites.

Managing, monitoring, and configuring numerous switches in any environment can be challenging. Add the complexity of L2/L3 fabrics with Spine and Leaf nodes, and overlays like VXLAN, and device-by-device management becomes time-consuming and ineffective. For instance, if you need a new VLAN, you simply want to update the fabric, not be bogged down by touching various elements in the fabric, CLI syntax, or order of operations.

The Cruz Fabric Controller provides a solution to manage the fabric as a single entity. It offers true SDN and control to orchestrate fabrics from a single-pane-of-glass.
Cruz Fabric Controller adds to Cruz Operations Center's (CruzOC) IT resource management. With Cruz Fabric Controller and CruzOC combined, you can deploy and update fabrics, manage, monitor, and maintain fabrics, and automate operations across the entire fabric topology. Together, they provide a single console management product for managing data center and network operations of converging infrastructures.
Watch a quick explainer video
>> Download Solution Note
>> Schedule A Demo
See More Dorado Solutions
ROBO
Edge Management
Virtualized Network Edge (VEP)
Remote Edge Management (VxRail)
Campus IT Management
Fabric Monitoring: Track CPU, MEMORY Disk and other KPI and other fabric metrics.
Fabric Visualization: Topology maps and geographic mapping let you visualize your fabrics links, physical and logical topology, as well view fabrics by location.
Reporting: Report on inventory, firmware versions, port or interface utilization, flow data by fabric.
Traffic Flow: Capture applications, protocols, conversations, endpoint flowing across the fabric.
Automation: Schedule or trigger action-workflows or rules or to auto-configure the fabric. Use Pre-built Templates to automate common deployment and configuration tasks from a single user interface to quickly define, provision and deploy configurations for an entire fabric topology.
Alarm, Event and Syslogs: Capture fabric information for deeper analytics, automated notifications, and fabric history.
Single Pane-of-Glass: Manage system wide fabric and any managed resource through their full lifecycle via a single interface.
Multi-vendor / Multi- platform: In addition to fabrics, configure, manage, and monitor routers, switches, firewalls, servers, clients, IOT, storage, and more.
Asset Management: Manage green field and brown field fabric installations and deployment as single entity for performance, root cause visibility, and reporting.
Active Security Compliance: Validate fabric configurations, change auditing and automated compliance enforcement for security policies.
Software Lifecycle Management: Corporate-wide application of software updates across fabrics and other devices with dependency validation for network functions, computer processes and applications. Track fabric elements, service tags, serial numbers, OS versions, warranty status.
Low-touch fabric Deployment or updates: Accelerate rollout of new fabrics or additions of Leaf with automated resource and network configuration.
Pre-built Design Templates: Sample topologies include: Two tier VLT Fabric L/S, Layer 3 fabric with OSPF, L2/L3 Fabric with VLAG and OSPF, Layer 3 fabric with BGP, VXLAN Overlay with BGP EVPN, LAN/SAN Fabrics, MCLAG
Ecosystem Integration: OPEN API's for easy northbound and southbound integration.
Improve efficiency
Minimize or eliminate daily operational complexity
Expedite fabric deployments
Reduce the time it takes to rollout fabric updates or other configuration changes
Eliminate operator error and misconfiguration
Validate fabric configuration and design
Visibility to fabric inconsistencies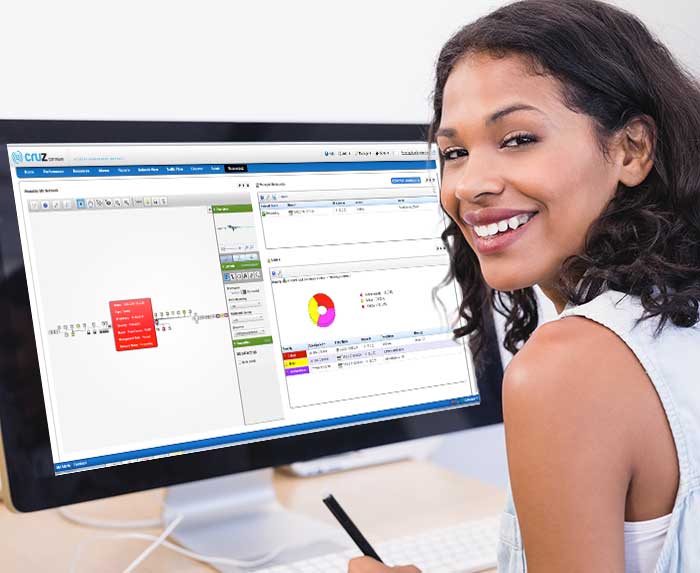 Supported Operating System Platforms


Linux for Redhat /Centos
MSFT Windows Server
MSFT Workstation: Windows
Virtual Machines supported on HyperV, VMware, and KVM
Virtual Appliance
Supported Web Browsers


Chrome
Safari
Firefox
Internet Explorer
Example Device Support


Networks: Aerohive, Arista, Aruba, Brocade, Cisco, Dell, Edgecore, F5, HP, Juniper, Netgear, Ruckus, Sonus, Sonicwall, and more. Storage: Dell EMC Unity (Unisphere OS)
Servers: PowerEdge, HP, Lenovo, Fujitsu, Supermicro, ASUS and more (any server, physical or virtual machines, running Windows, Linux or Solaris OS)
IP: Phones, Cameras, Sensors, Lights, etc.
Any SNMP-enabled: Printers, Routers, Switches, Servers, Oracle, PDU's, UPS's etc.
Downloads